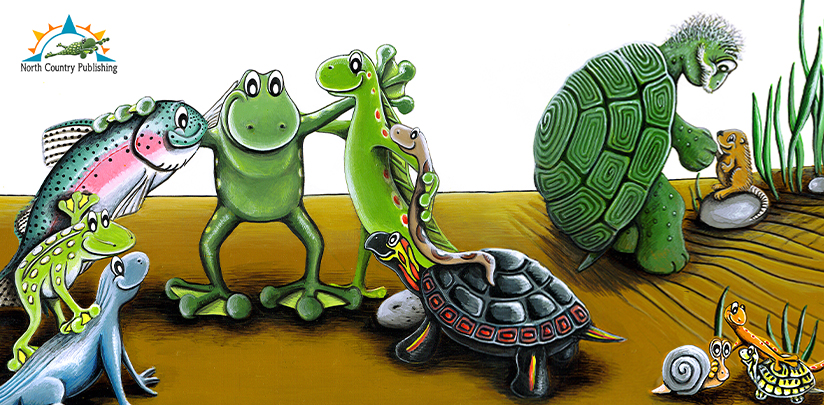 North Country Publishing | Pond Friends Characters
Children's Book About Friendship
North Country Publishing has created a Children's Book with a host of fun characters! We are sure that your children will love Billy Bullfrog, Lilly the Leopard Frog, Old Timeless Turtle, Poppy the Painted Turtle, Susy Newt, along with Tommy Trout! Pond Friends is a story about Billy Tadpole. He explores his big new world - the pond, and he loves to make friends. Our friendly Children's Book Characters help Billy as he grows up. Much like when our children grow, change and move, these hurdles can be challenging.

When Billy learns that he is changing, the friends take him to go to visit "Old Timeless Turtle" – the wisest creature in the pond. Billy finds out that he is an amphibian and will soon be a bullfrog! This Children's Book on friendship, focuses on how friends — old and new can help during the challenges in life.

North Country Publishing produces "UPlifting Children's Books" for all ages. We have lots of plans for more, "Pond Friends" books in the future, so check back often.
"I bought this book for my five and seven year old Grandsons. They really enjoyed the story and loved the pictures. This is such a great book... I would recommend it to anyone with small children. The illustrations are awesome and we enjoyed looking for the small creatures on every page." — Pam, Amazon Reviews, 5 Stars
---
Meet the Friends
"Parents and children will love this sweet story of a little tadpole and his loveable pond friends, the fun they have, and the surprise they encounter. The illustrations are beautiful, powerful and detailed. I love the rainbow trout. This book will be a useful addition to every library and school. it is a well-made book with a wipe clean cover. This is the first publication by the Harman's who are both accomplished artists. I look forward to their next publications. (Written by my grandmother I bought this for, Kathy Griffin)." — James G., Amazon Reviews, 5 Stars